February 2019 Performance
My January 2019 performance is located here or you see my 2018 Performance as well. Once again I'll be using the Steemit Board Ranking System as I've done in the past and plan to use in the future unless something better is developed. While most of these metrics aren't monetary metrics, tracking these should help with my overall growth on the platform.
Account Value
I guess I should point out that the value of each month is the average taken over the entire month. For instance, my steem power shows up as around 2500 on the graph below, but it's actually closer to 2600 currently. The USD value of my account also takes into account any liquid Steem or SBD I have sitting in my wallet.
I was able to make a decent push the first half of last month, but then did almost nothing the second half. I think last month would have been an amazing month if I could have just stayed consistent through the entire month. From January to February I gained about 120 SP and my account value went up by about $500. For the days I was actually active that's about $30 a day so that's not too shabby (the jump in price from around $0.28 - $0.40 helped as well to increase that number).
Steemit Board Rankings
I'm going to try a different layout for this section to shorten it up. To start things off last month I was hoping to make 10 comments per day minimum with a goal of 15 comments per day and a goal of hitting 28 posts for the month making 1 post per day. I only made 230 comments falling 50 comments short of my minimum and 10 posts falling 18 posts short.

I should be able to easily get back below 2,700 Steem Power rank which was a general goal I had set for the previous date with no realistic end time. I wasn't sure how much people around me were powering up and it seems like they're not powering up much as I was able to jump ahead 100 ranks pretty easily. I'm still on track to hit Reputation 66 by the end of June to meet my goal of hitting 70 by the end of the year.
I wasn't able to hit my goal of 2000 followers, but should be something that will easily be accomplished this month and not something I'm putting too much effort into. I would like to increase my overall engagement on posts and wish there was something I could do to easily track that.
Overall
I have 100 SP invested in Magic-Dice which provided roughly 0.15 Steem in dividends last month. I started the month with 300 Magic and ended it with 7362.5. I ended up playing a few games to try and "mine" some magic and ended up losing 2 Steem and decided it wasn't worth it. I'm waiting to see once SMTs get released if it will be worth selling my Magic tokens or if it's better just to hodl and keep earning dividends.Overall, @magicdice seems like a popular dapp for Steem that will be popular well into the future as long as it continues to develop and grow.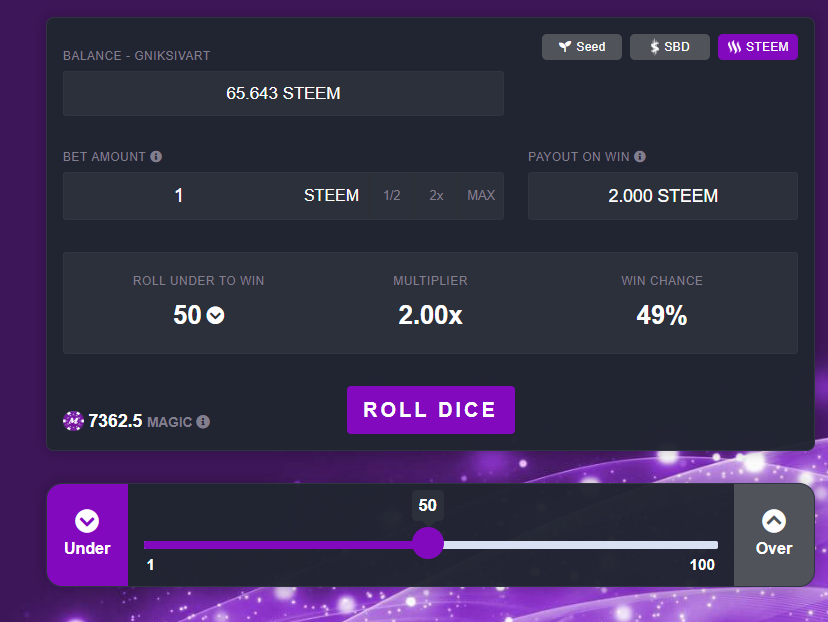 My steem user authority went up a pretty decent amount last month as well. I wonder if it's the amount of Steem Power that I have delegated that keeps me at a lower rank than what I would assume I should be that. Either that or it went up because of my increase last month in my number of followers. I'm just happy to see it moving in the right direction again.

I am starting this month off on a good foot getting some comments made and a post to go with it. I'm hoping to continue this momentum well into the end of the month as we could be approaching the end of the bear market and the beginning of the next bull run which will make it even harder to earn Steem as more and more people will be entering the platform to compete for roughly the same amount of Steem Power votes.