I was going through my Steem feed just now and came across a post resteemed by acidyo and decided to check out what @engrave was and I'm pretty blown away. For those bloggers on Steemit who like the Steem blockchain, but want to try and set-up a blog of your own this is the place for you.
Getting Started
I'm going to assume you already have a Steem account and therefore would be using SteemConnect to log onto the Engrave website. There you are given the option of using an subdomain for free, or paying 35 Steem or I think it's around 20 Steem Dollars for your own domain. Just starting out I decided to use a free domain in case keeping up with this blog becomes too much of a hassle.
Once you decide what type of domain you want getting it set-up is as easy as answering 3 simple questions. What do you want the title of your website to be, the slogan, and the style. You can see the title I chose is at the top left of the "magazine style" layout I chose down below. I'm not sure where the slogan of the website appears and would assume maybe it has something to do with SEO? Don't stress over the 3 questions too much as they can easily be modified later under your "Blog Settings"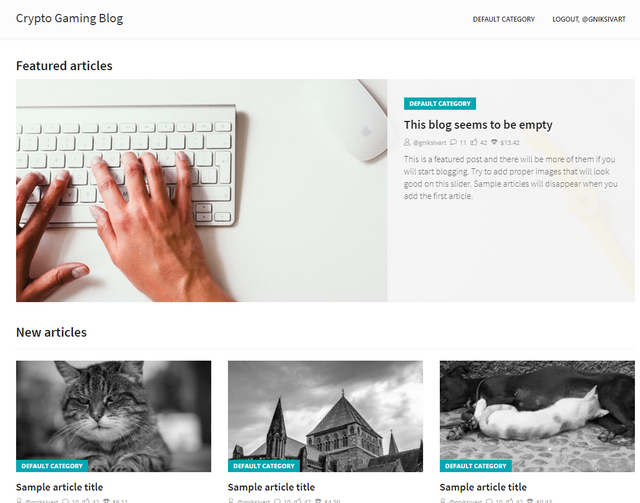 Navigating the Dashboard
The landing page or "dashboard" is what you see in the screenshot below.
Dashboard - see screenshot below.
Your Posts - which will contain drafts and past posts.
Write New Posts - Pretty self explanatory, is where you can write your blog posts.
Wallet - is essentially your Steem wallet which displays Steem, Steem Dollars (SBD), Steem Power, SBD Savings, and Steem Savings as well as a way for you to claim your rewards.
Notifications - "Soon you will be able to see your account history"
Your Profile - Is very similar information as your Steemit profile including a picture, first and last name, and "about me"
Blog Settings - allows you to change the layout of your home page as well as create push notifications which I will have to play around with to see what it does as well as SEO & Open Graph.
Statistics - Ability to connect your blog to Google Analytics and Webmaster Tools.
Themes - Clean Blog, Magazine, and Stellar. I'm currently using the Magazine theme.

Custom themes - "Soon you will be able to upload and edit custom themes" It will be neat if people can upload custom themes for free, but you could support them through "upvotes" as well as having paid custom theme options.

Cooperation Market - "Soon you will be able to sell/rent your blog space for other bloggers ads."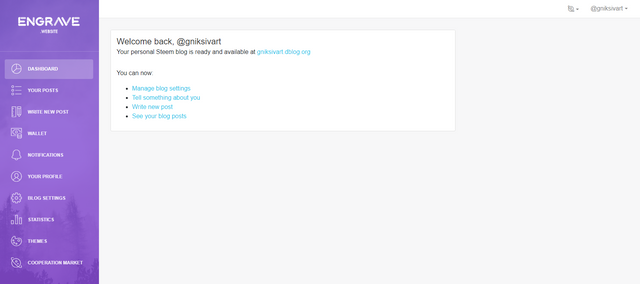 1 Think I don't Like so Far
On Steemit.com you can just copy and paste a picture into the post editor and it shows right up. As far as I can tell with Engrave you need to post it on Imugr or take the lazy way and post the picture on a comment in an old post on steemit and then link to that address on here. This shouldn't be a suprise because when I was trying to start my own blog before Steem you needed to upload pictures to the host then you could link to that upload when writing an article and couldn't just copy and paste their either.
3 Things I Like So Far
The Post Preview. I know a lot of people complain about writing posts on Steemit where the preview is below what you're typing so you have to scroll down and leave the "edit" portion of your post to preview what you're currently trying to do. Well Engrave allows you to switch to a side by side view so you can preview the post while you type, see screenshot below.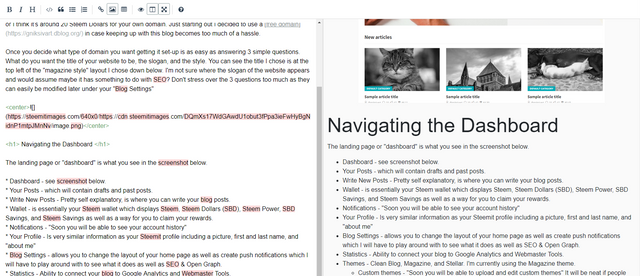 It looks like it has google analytics integration which I'm hoping means you will be able to use google adsense and get an alexa page ranking when you're tracking your blogs progress, but this has yet to be determined. Google analytics would be a plus and Google Adsense would be an amazing way to diversify revenue streams.
It's Free! It doesn't have the most customization options so far to really make it feel like your own blog, but it's free! I'll have to experiment more with html and css customization to really see how much freedom is allowed, but it's a free site to call my own. I can't complain.
Let me know in the comments below what are your thoughts on Engrave or if you haven't checked it out yet why you haven't https://steemit.com/@engrave or https://engrave.website/..
---