If you just want to test the crypto waters, but not sure you want to invest in money (which is how I first started out) then finding ways to earn free crypto can be a great way of testing out the waters without worrying about loosing all your money. While you aren't going to get rich overnight by claiming free crypto I try and find different ways that are mostly worth your time and relatively easy to complete.
Coinbase
Coinbase is a digital currency (Crypto) exchange that has recently started partnering with popular projects and providing short informational videos to give away small amounts of free cryptocurrency for answering questions about the video.
If you haven't signed up to Coinbase the first thing you need to do is create a free account. Then head to the https://www.coinbase.com/earn.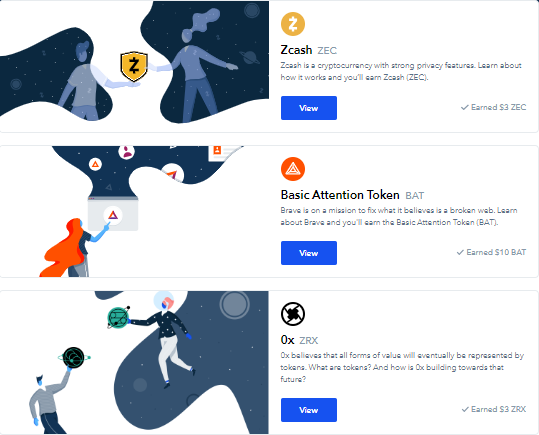 Once on the site you can either start learning and earning about Zcash, Basic Attention Token, or 0x (ZeroX). Most of the time you have to "sign-up" for to earn, but that only takes about a week before you receive an email saying you can start. Each of the 3 projects provides a 3 3-5 minute videos paying you 1$ per video watched and question answered. Basic Attention Token has an advanced / extra step where they pay you to download the Brave browser which rewards you more Basic Attention Tokens or "BAT" for viewing there ads.
Earn
It is kind of confusing, but Coinbase has www.coinbase.com/earn and then they have Earn.com which is another opportunity to earn free crypto, this time Bitcoin. Earn considers itself a place where visitors can pay you for your attention.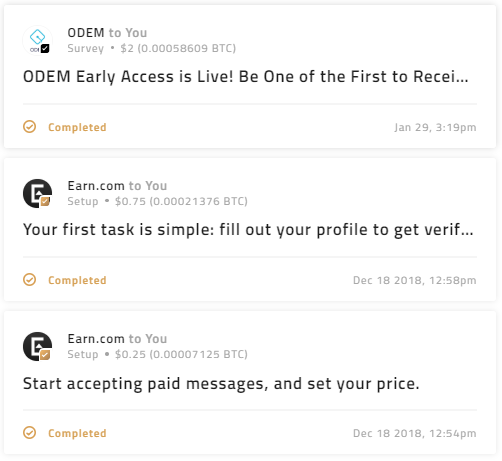 So far I've earned $3 worth of Bitcoin which is now worth around $3.31 which is nice. The first 2 tasks by Earn took a few minutes and paid out 1$ combined. The 2nd "survey" took a little longer, probably about 10 minutes, but paid out $2. I did get a $1 task recently, but must not have completed it quick enough as I can't find it anymore and never got the chance to complete it.
If you like the chance to earn free crypto stay tuned because there are a few other projects that I'm digging into that provide an opportunity to earn crypto for completing different "simple" tasks. The best places to follow for future updates is either on Twitter, Steemit, or check back from time to time on my blog.
If you have any faucets, websites, or apps you like using to earn free crypto feel free to shill your referral link in the comments below.